Real Tuesday 3 - 0 Cameron Toll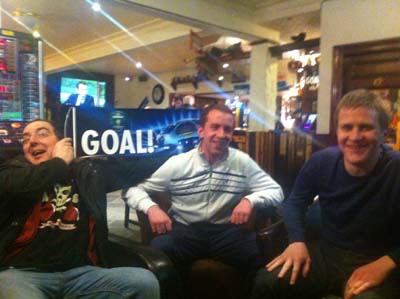 You could argue that two of the major factors in our fine playoff win over Cameron Toll were, in fact, outwith our control.
First, there was the weather. It chucked it down for most of the game, and even the relatively new Forrester Astroturf struggled to cope with the amount of water it was soaking up. The result was a waterlogged, 'skiddy' pitch which made it very difficult to judge the weight of passes.
The excellent Cameron Toll midfielders seemed set on playing perfect through balls for their strikers to run on to; these through balls were, as a result of the conditions, almost invariably over hit, running through for Graeme, Greg and goalie Ross to clear. Our forwards, on the other hand, were happy to make their own openings, using their explosive pace to burst through the Cameron Toll defensive line on numerous occasions.
The fact that the Cameron Toll defensive line was close to the half way line for most of the game was no bad thing for us, either!

The other factor was referee Brian. Having only watched the game from the sidelines, I can't really say whether he got the key decisions right or wrong. But, at the end of the day, he denied Cameron Toll what looked like a pretty decent penalty shout during the first half then chalked off a 'goal' by our opponents early in the second half, while there was a whiff of offside about our second goal.
You can understand why Cameron Toll were pretty angry about his performance after the game - though it has to be said that effing and blinding at Brian during the course of the game had probably done them no favours, either.
But let's not dwell on the external stuff too much, as this was also one of the gutsiest Real performances in recent years. We soaked up a load of Cameron Toll pressure throughout the game, with even Craig and Phil struggling to cope with their opposite numbers in the middle of the park. But everyone stuck in, with Gormley and new boy Ali putting in a power of work on their wings, Graeme doing some superb sweeping with his Inspector Gadget legs and Dave and Darrell keeping things neat and tidy in the corners.
Ross also had a fine game, handling the ball well despite the monsoon conditions and making one particularly fine one-handed save early in the second half. He seemed to be unhappy with some of his kick outs, but it was still one of his best performances between the sticks for the Real.
While it was no surprise that one of our goals came from the ever-reliable Phil, it was particularly pleasing to see both members of our somewhat makeshift strikeforce getting on the scoresheet.
Roddy scored our first goal, running on to a short back pass before dribbling round the Cameron Toll keeper and sliding the ball calmly into the net. Ted then added the second goal during the second half, accepting a neat lay off from Phil before finishing from close range. Phil's came care of one of his trademark headers after we had won a free kick to the right of the opposition box.
Roddy should, in fact, have doubled his tally during the first half, as he ended up one on one with the Cameron Toll keeper not long after his goal. The chance came from a fairly speculative high ball into the Cameron Toll box; Roddy actually had a wee bit of time to get the ball under control before taking his shot, but only managed to blooter the ball over the bar in the end.
Both sides managed to hit the crossbar either side of half time, our Crossbar Challenge win coming care of Ted just after the restart.
The fact that my notepad got soaking and my pen stopped working due to the deluge means I am struggling to come up with anything approaching a minute-by-minute account of the game, so here are a few random observations instead:
Have to finish this one with some words of thanks. Firstly, thanks to Gormley and Ali for agreeing to pitch up at such notice, and for playing so well despite a) having a dodgy groin (Gormley) and b) not knowing anyone apart from Ross (Ali).
Secondly, thanks to all of the subs for taking the news that they might not get any game time with such good grace. Until we added our second and third goals late on, it was one of those games where one substitution could have thrown out the whole balance of the team, and even I wasn't about to risk the win by tampering with the team for the sake of it. You'll get your game time against Edinburgh Harps this weekend, chaps!

Lastly, thanks to all twelve of the players who took part in this game, and dug in to earn such a fine win.
We were missing many of our 11s regulars for this one -Yass, Jay, Calder, Dave Rolland, Stu Falconer - and had, as a result, what looked like a pretty scratch side out (Phil's whispered prediction just before kickoff: 'We're going to lose, Bill!)
The fact that, despite the absentee list, we (hair) gelled together and won the game, playing some decent football in the process, is something to be very proud of.
Bill
---
Match Stats


Result
Won 3-0
Sequence
1-0 (half time), 2-0, 3-0
Scorers
R. Campbell, MacDougal, Robson
Cards

None

Team

Henderson; Murray, Bissett, Proudfoot, McHardy; Gormley, Robson, Milligan, Johnston; MacDougal, R. Campbell

Subs
Blackhall, Allan, Thomson, Dudek, McNie (only Jordan used)
Referee
Brian Latto
Attendance
2 (Callum and Martin's dad - until he naffed off!)
MoTM

Lots of contenders, as you'll see from the match report, but let's give Roddy the nod - he ran tirelessly all night, and, through that deft piece of poaching in the first half, really threw the cat amongst the pigeons. Cameron Toll were forced to chase the game thereafter, which left vast areas of Astro for us to run into as a result.

Honourable mentions to Ross and both of our wingers - for last minute additions to the squad, they both made a massive impact on the result.