Real Tuesday 4 - 3 Inter Yerma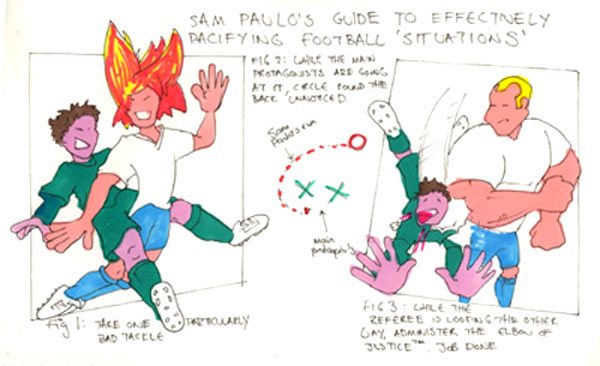 Match report to follow

---
Result
Won 4-3
Sequence
1-0, 1-1, 2-1, 3-1, 3-2 (half time), 4-2, 4-3
Scorers

Dave Rolland 3, Gary Lees 1

Cards

Phil was sent off 30 minutes into the second half after a short but fairly heated fracas with one of the Inter Yerma players - think it may have started with Phil taking a fly kick, but not 100% sure.

Anyway, he attempted a Footballer's Headbutt by way of retribution and it all kicked off, with Fahd and (especially) 'Chickenwing' Paulo piling in (see James's cartoon above for full details!)

The Inter Yerman also got sent to the sidelines.

Team

Frame; Paulo, Proudfoot, Hook, Blackhall; Lees, Robson, Lawlor, F Campbell; Rolland, Hare

Subs (all used)
Swan, McHardy, Khammal, Barnet, Fombo
Referee
Brian Latto
Attendance
3 (Bill, Little Bill and Little Clarky)
MoTM

Has to be Dave Rolland, who lasted the whole game despite sprinting about all night - and, more importantly, weighed in with three fine goals! The third one, where he ran onto a fine through ball from Fergal and chipped the ball over the advancing keeper at close range, was an absolute cracker.

Dave may actually have scored four goals, in fact, as there's some debate as to whether his header just before half time was, in fact, over the line before it was hacked clear.

Dave's MoTM vote went to Graeme, by the way - and, to be fair, the big man did have a cracking game, mopping up attack after attack and keeping the Yerma strikers as far from Al as possible.