Tuesday FC tournament - Nottingham, 12/5/07
Background
Thanks to a chance sighting of this very website (see News page), we have been invited to participate in a Seven a side tournament in Nottingham this year. The host club are called Tuesday FC.
Date & Time
The tournament will take place on Saturday 12th May, between noon and 3 pm. That gives us the rest of the Saturday on the sauce on Nottingham, a city renowned for the quality of both its grog shops and its women (ask goalie James!)
Travel
Simon and I have checked out both trains and planes, and it looks like flying down would be both quicker and cheaper than the choo choo. We could, for example, fly from Edinburgh to East Midlands on the Friday evening, then back on the Sunday evening, for £68 all in with BMI Baby. 15 seats were available at the time of writing (18/4).
Travel from the airport to Nottingham would then be via taxi (maybe £30 a cab each way) or the Skylink Bus that runs 24/7 between East Midlands and Nottingham (£5 single, 35 minute journey time).
I gather that there are plenty of reasonably priced hotels we could use - for example, the Park Inn or Best Western Westminster are near the pitch, while there are the Holiday Inn or Rutland closer to the town centre.
After some research, I've decided to make the Park Inn our base, mainly because it's so close to the pitches that there must be a decent chance of us making a noon kickoff on the Saturday! It's just up from the 'G' shaped building in the top right hand corner of the photograph below.
I managed to book a twin room there for £59 a night on 21/4 via Expedia. Well, Expedia only showed double rooms, but, when I phoned up the hotel (0115 935 9900) and spoke to a very helpful lady called Diane, she said that that was just a fault on Expedia, and that they have plenty of twin rooms for the nights we would require. So, if you are booking via Expedia, just get a double then phone up the hotel a couple of days later (once the Expedia booking is through) and they will change it to a twin (unless you want a double!)
Diane also mentioned that we might be able to negotiate a discount for placing a block booking - I will check that out, so please keep me informed of your accommodation plans and watch this space for updates.
You are obviously at liberty to stay where you want for the tour, though it would be good to get us all in the same place for team talks (ha!) and the like. If the Park Inn fills up, just try the Best Western, which is close by on Mansfield Road (just across Magdala Road). I'm assured that Mansfield Road has three or four superb boozers on it ...
Please get in touch if you need a hand finding or booking digs for the trip!
The host club, Tuesday FC, are based at a newly laid, sand-based astro pitch at the Forest Recreation Ground, about 15 minutes' walk / 1 mile north of the city centre, off the Mansfield Road.
Each game will use 1/3 of the full size pitch, which Tuesday FC have booked for the duration of the tournament: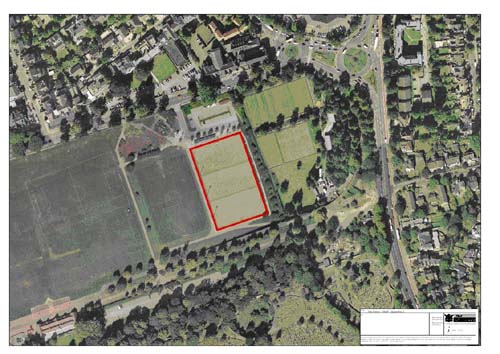 The goals we will be using are approximately 3.66m x 1.22 m, so a bit on the small side (result!)
Teams will be seven a side, with one or two rolling subs. The tournament will involve group matches, then semis, then a final ... then the pub (360 to choose from in the city centre, including the oldest boozer in the UK - get a sample here!)
From a chat with Chris Shaw, my Tuesday FC contact, on 21/4, it's looking like there will be 8 teams in the tournament, so the group stages will involve three games of (probably) 20 minutes each. There will also be a Wooden Spoon / C*nts Cup competition running for the teams that fail to make it out of the group stages (result!)
We don't have to pay any entrance fee for the tournament. And there will be referees - so behave, Zyco!
Tournament Rules
Here's what Chris had to say on this (NB the bit about footwear):
"We don't play head height; only keepers inside the 'D'; keeper can't come out of the area; kick ins, not throw ins; and, above all, no rough stuff (we're all gentlemen, you know, and we're getting on and our bodies can no longer take it), so slide tackling is not allowed. The wrong footwear will also be frowned upon, what with the new pitch and all that. So no studs or blades."
Other Teams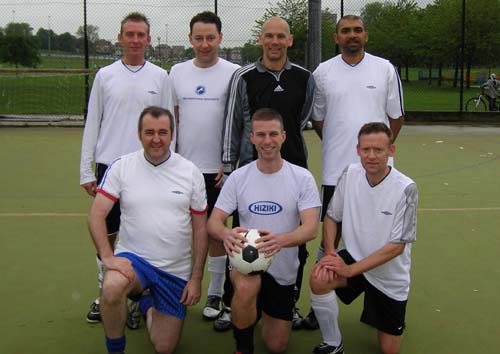 One of the Tuesday FC teams from last year's tournament - Chris Shaw front right
Chris again:
"It's a bit early for anyone to confirm but we expect Nottingham based Steelers (slick, they have a website, but beatable) and Black Star ( a good mix of old and young) to play. We usually field two mixed ability teams. Last year we tried an 'A' and 'B' team, but 'A' failed to come up with the goods and got knocked out in the semis."
Our Teams
I hope to take two teams down to the tournament - one from Real Tuesday (e.g. James, Zyco, Bonus, Simon, Tom and some of our Irish contingent) and one from our 'sister' club, Scotlandnil (AKA Bill, Lee, Kenny, SBJ, Malky and assorted other old f*rts).
PLEASE CONFIRM YOUR AVAILABILITY TO ME AS SOON AS POSSIBLE SO I CAN LET THE ORGANISERS KNOW HOW MANY TEAMS WE ARE BRINGING!
Bill
---

LET'S MAKE THIS HAPPEN!